When you think about a cocktail that embodies Wisconsin, what comes to mind? We posed that question to a few bartenders across Wisconsin. These are their responses.
From supper clubs to cocktail lounges to dive bars, chances are you can find an Old Fashioned just about anywhere in Wisconsin. You don't even have to be at a Friday Fish Fry to say, "Brandy Old Fashioned Sweet, please."
"That's the Wisconsin one where you add soda to it and usually brandy, but sometimes whisky or bourbon," said John Dye, owner of the James Beard Award semifinalist Bryant's Cocktail Lounge, as well as Milwaukee's Jazz Estate and At Random.
Cocktails have seen a bit of resurgence in recent years, so now bartenders need to clarify if customers want a Wisconsin Old Fashioned or an "Old Old Old" Fashioned.
"The original Old Fashioned was a really simple cocktail that was just bitters, sugar, and spirit. So, when someone comes from out of town and they want an Old Fashioned, the [original cocktail] is generally what they want. If a person orders one without specifying sweet or sour, we have to ask them where they're from. That's a good way to get to the bottom of it," he said laughing.
The Old Fashioned has never gone out of style in Wisconsin and its roots are a bit muddled. Its popularity has ties to Korbel's introduction at the Chicago World's Fair in 1893. The recipe also made its way up the Mississippi River in the 1800s.
Back in 1938, bartender Bryant Sharp decided he was done with beer. He converted a Miller Brewing tied house into a cocktail lounge. At Bryant's, Sharp developed a reputation as a talented mixologist and went on to invent a few drinks for the liquor company, Bols. The most famous drink is the Pink Squirrel.
"It's sort of cream-based drink that sort of has an almond flavor to it. It's a pink color," said Dye. "He also invented The Banshee and Blue Tail Fly. Those are the three he's best known for. They're all creamy drinks. The Banshee is banana, sort of after dinner. Blue Tail Fly is blue and sort of has an orange flavor to it. It's delicious."
Although you can find recipes for a Pink Squirrel in books and online, the folks at Bryant's will not divulge its secret recipe.
"Bryant was very secretive about the whole process and that's sort of a unique thing about him," said Dye. "When he first started hiring people, he would actually wrap all the bottles in foil. Everything was numbered so not even the bartenders knew what they were pouring. We still keep a sort of secret nature of our recipes. We don't tell people our recipes and we kind of keep them to ourselves and we have for 80 years. A lot of the recipes we use are Bryant's original recipes, which is a pretty neat thing."
Can you name a more iconic place in Wisconsin than Lambeau Field? On game day, tailgaters flood the stadium's parking lot to prep for the game, stuffing their faces with brats and beer. Other Packer fans make their way to the surrounding bars, like Kroll's West. It's been a Green Bay institution for more than 80 years and has been across the street from Lambeau since 1974.
And on Sundays during football season, Kroll's makes A LOT of Bloody Marys.
"We pre-make those for game days because we get so many of them," said Jessica Karnopp, a Kroll's West bartender. "We open at 8 a.m. and a Bloody is the most popular drink. We have it all ready to go."
And of course, the cocktail has to come with a chaser, "to wash down that tomato juice."
So why are Bloody Marys so popular in Wisconsin, especially during brunch or on game days?
"They taste so good!" laughed Karnopp.
The Old Fashioned is the quintessential Wisconsin cocktail. The Pink Squirrel was invented here. Bloody Marys are a game day foundation. So where do we go next? What's modern? What's different?
Breakfast With Petey Pablo, a non-traditional cocktail made at Merchant in Madison.
"Wisconsin has done an amazing job with coffee over last 10 years," said Thor Messer, beverage director with Rule No. One Hospitality. "There's so much great coffee in Wisconsin. It's a legit thing we're doing on a big scale."
The scotch coffee cocktail pays homage to early 2000s rapper Petey Pablo (Come on, "Raise Up!" "Freek-A-Leek!" That "Drumline" appearance?! They're classics!)
"It tied in perfectly. So, scotch is traditionally peaty. Peat is essentially the smokiness or earthiness you get out of scotch whiskey. Peaty/Petey Pablo … it sort of morphed into this fun [name]."
Raise up…and cheers, Wisconsin.
[NOTE: The full ingredient recipe for Breakfast with Petey Pablo is:
Hazelnut Washed Scotch: Add 750mL of blend scotch to 250g of chopped hazelnuts and let sit for 24 hours. With a fine strainer or cheese cloth, strain out hazelnuts. Save hazelnuts for garnish.
Garam Masala Brown Sugar Syrup: Add 8g of garam masala to 400g of brown sugar and 400mL of hot water and stir until sugar is dissolved and completely integrated. 
Garam Masala Whipped Cream: Add 100mL Garam Masala Brown Sugar Syrup to 300mL heavy cream and shake vigorously until desired whip cream consistency.]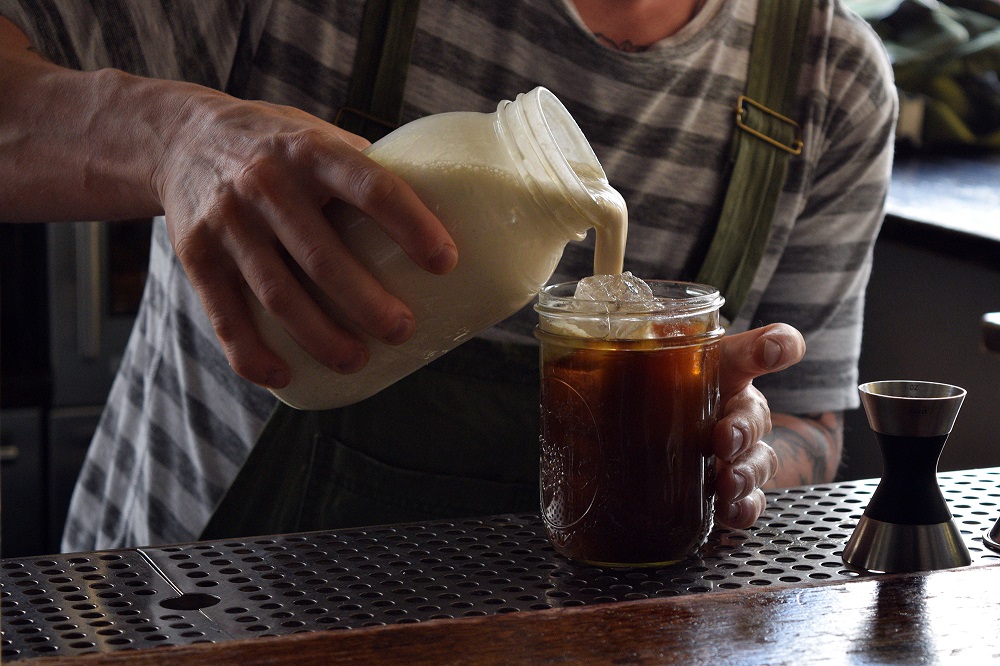 Merchant bar manager Lucas Endres mixes a Breakfast with Petey Pablo cocktail. (Jenny Peek/WPR)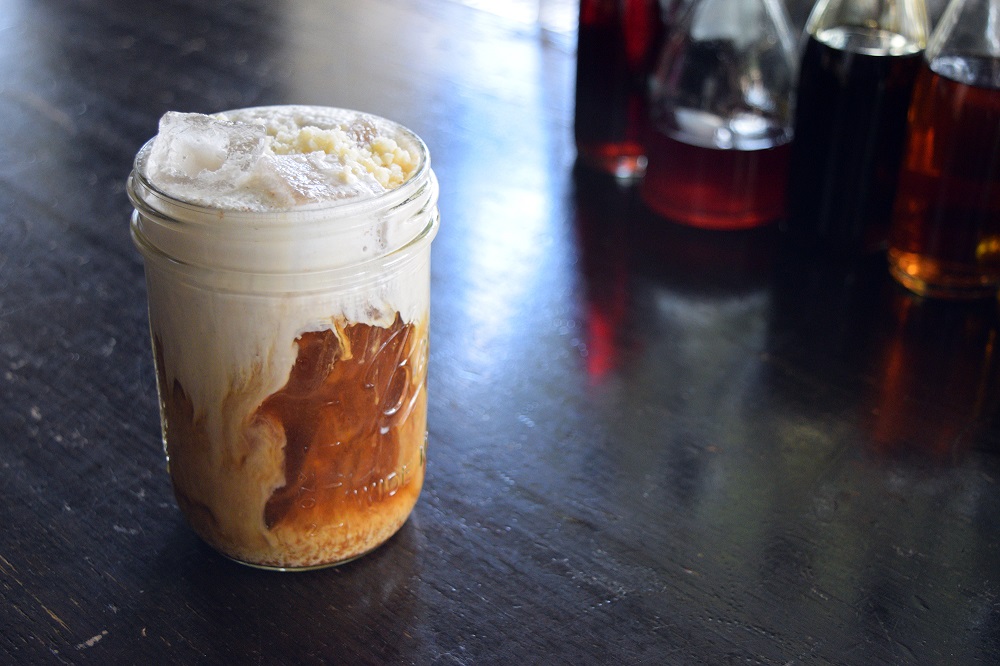 Breakfast with Petey Pablo at Merchant in Madison. (Jenny Peek/WPR)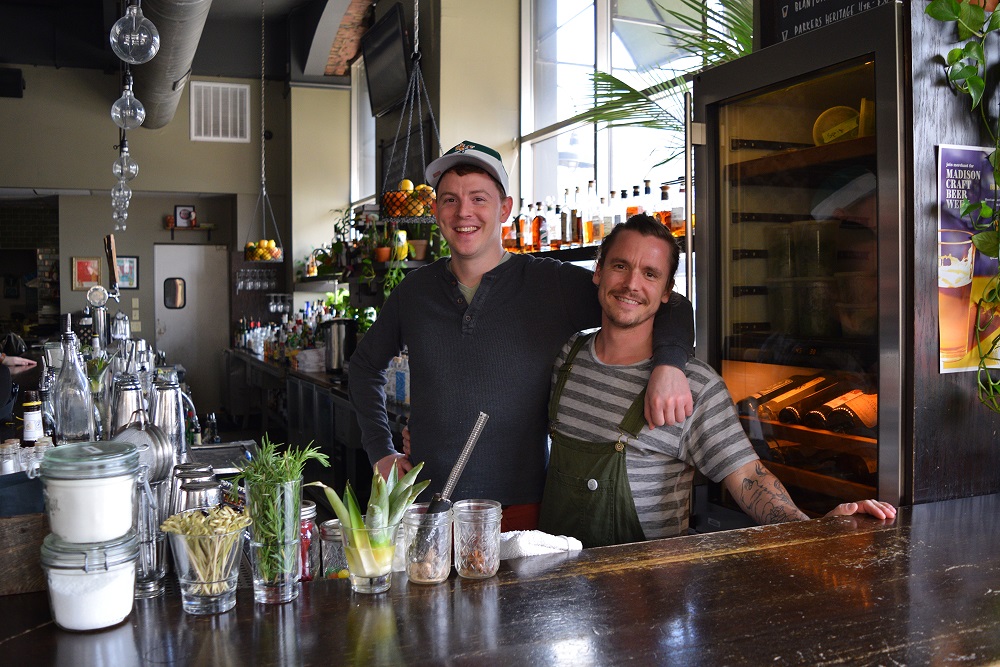 Rule No. One beverage director Thor Messer and Merchant bar manager Lucas Endres. (Jenny Peek/WPR)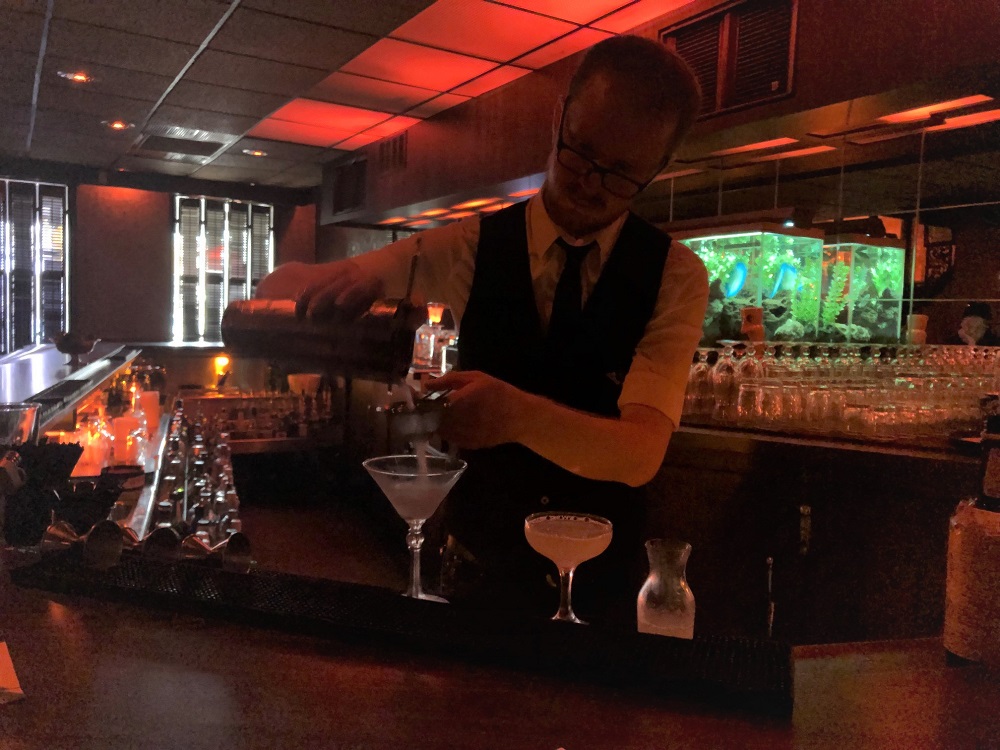 A look at the bottles behind the bar at Bryant's as bartender Dave Cornils mixes drinks. (Maureen McCollum/WPR)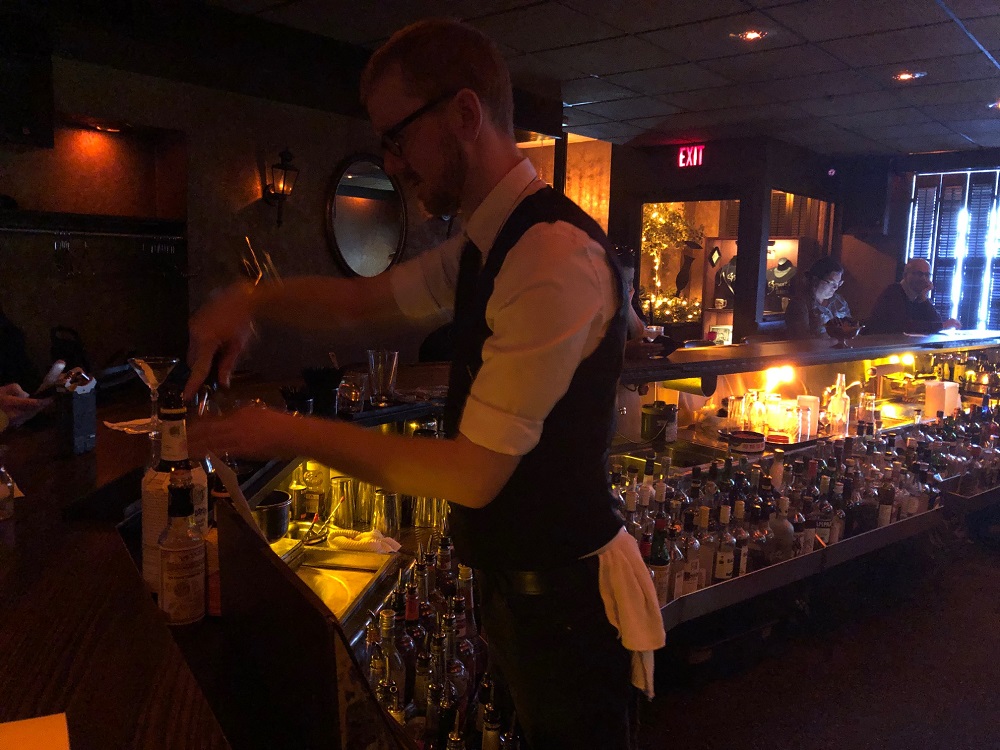 Bartender Dave Cornils mixes up a couple of cocktails at Bryant's in Milwaukee. (Maureen McCollum/WPR)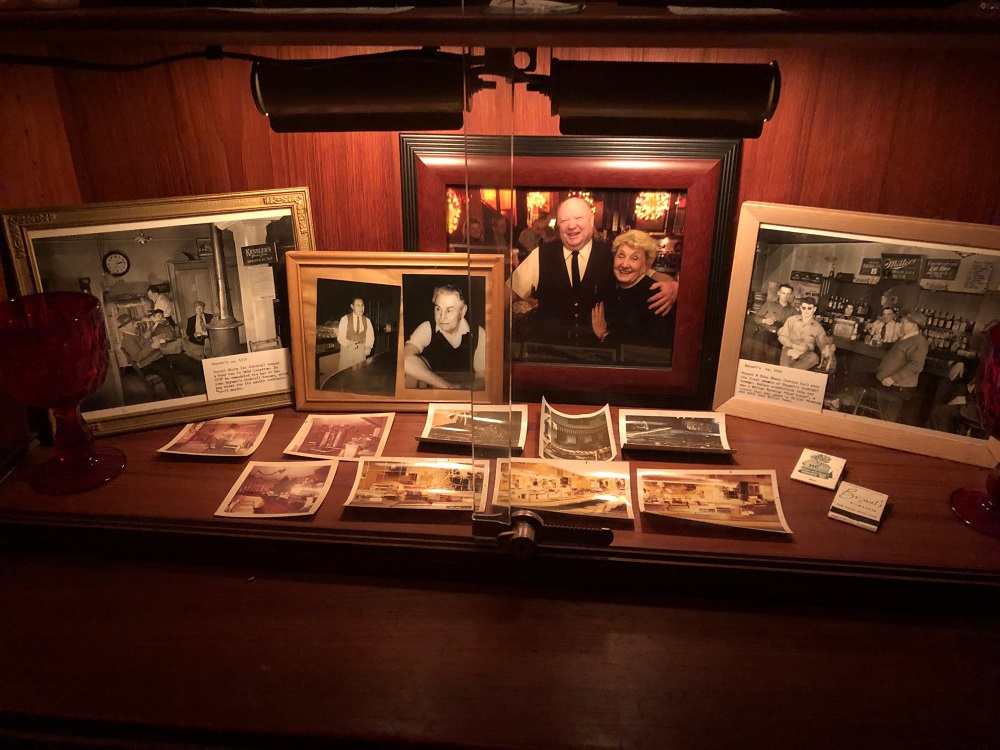 Bar history on display at Bryant's in Milwaukee. (Maureen McCollum/WPR)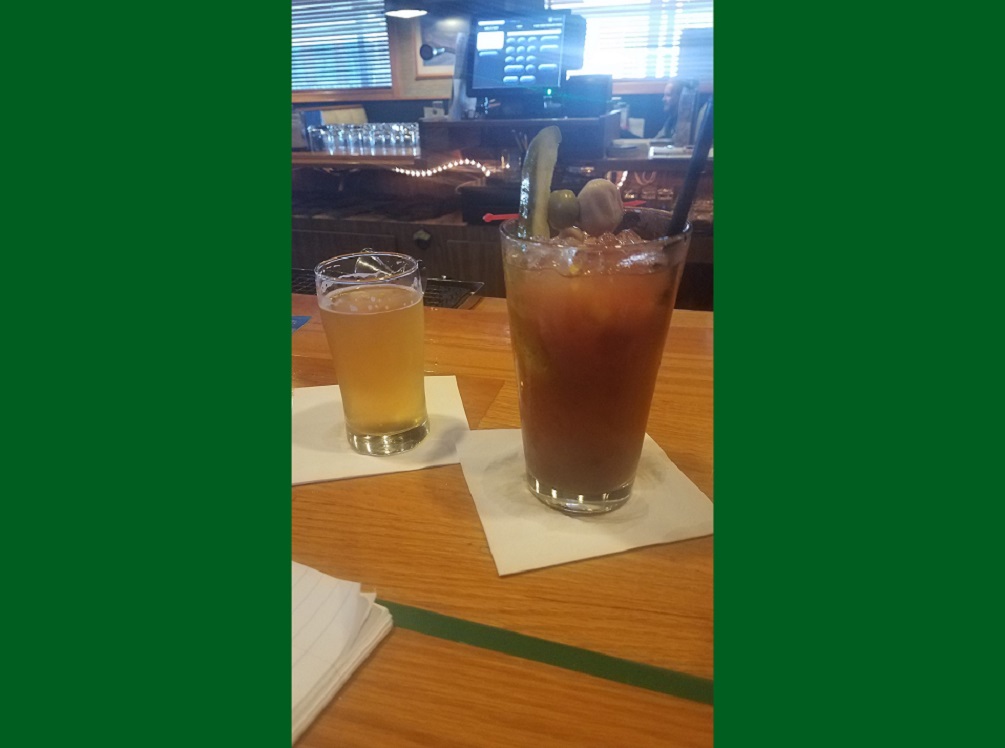 Bloody Mary and chaser at Kroll's West in Green Bay. (Patty Murray/WPR)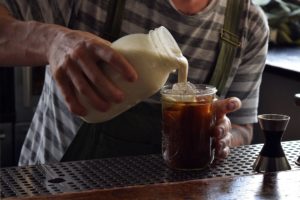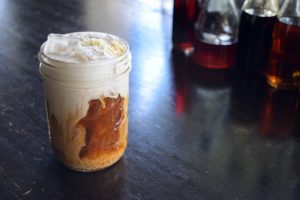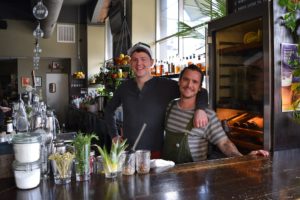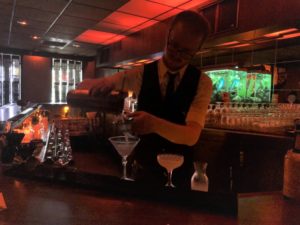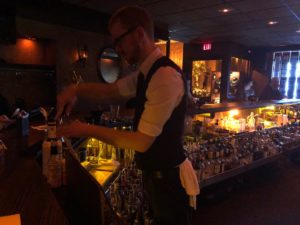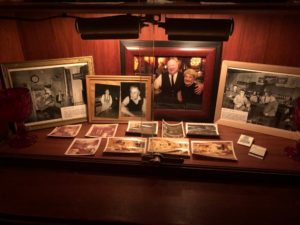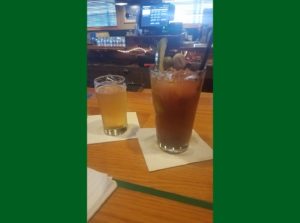 This story was part of WPR's High Tolerance series, a look at Wisconsin's relationship with alcohol.
==
SONGS: "Raise Up" by Petey Pablo
"Old Fashioned" by Treemo