[water running]
[upbeat music]
Monica O'Connell:
Alright, cake time.
Three and a quarter cups. This is my mother's famous rum cake. The memory is one of me being a young kid, getting to stay up 'cause my parents were throwing one of their famous house parties. Just to help the flavor along, you know. Eating this, my mom's famous rum cake, on the stairs and watching the grown folks dance. People would get dressed up and they'd dance and they'd play cards and we don't have parties like that anymore, you know?
That smells good. It's a happy smell. Rum and butter, no problem. What I want to recreate is just that feeling of, through deliciousness and welcomeness, the food ways and the musical traditions, they share the same space, they influenced one another, I think.
Bye, momma, we'll see you in 45. Just a little more butter. They know how I see this in Wisconsin too. I go to Cheese Days. Cheese Days isn't Cheese Days without polka. [chuckles warmly]
It is a grown-up cake and that's probably part of why it felt so special to have it when I was a kid but it looks pretty good.
Mm-hmm! [laughing] Yup, that's just fine!
That little bit of extra rum definitely helped.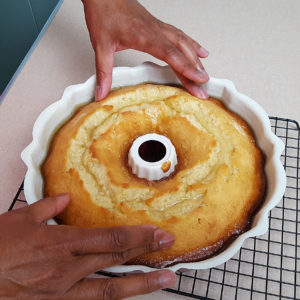 Curtis & Cake's Butter Rum Bundt
Monica O'Connell makes one-of-a-kind wedding and celebration cakes through her independent, small-batch cake and sweets studio in Fort Atkinson called Curtis & Cake. The "Curtis" is for the soul singer Curtis Mayfield and gestures to O'Connell's love of the arts, music, culture and history. She cherishes foodways of the American South and generously offers her adaptation of her mother's recipe for Butter Rum Cake.

Ingredients
Batter
3 3/4

sticks

softened butter

2

cups

sugar

3 1/4

cups

unbleached all-purpose flour

3/4

tsp

baking powder

(aluminum-free if possible)

3/4

tsp

kosher salt

5

eggs

3

Tbsp

sour cream

1/4

cup

rum

(I use Bacardi Gold in honor of my mom's version, but also really like Cane & Abe Small Barrel or Plantation Pineapple Rum)

1

Tbsp

vanilla
For the glaze
1/2

cup

butter

1

cup

sugar

3/4

cup

rum
Instructions
Butter and lightly flour a 10 or 12 cup Bundt pan

Cream the butter and sugar until light and fluffy (5-7 minutes). Meanwhile sift together flour, powder, and salt, and set aside. In a smaller bowl, whisk together eggs, sour cream, rum and vanilla. Pour into butter mixture and cream until smooth. Add the dry ingredients in two batches, scraping the bowl in between.

If using, layer toasted pecans in bottom of Bundt; pour in batter. Bake about an hour, rotating pan after 30 minutes. Just watch and smell; It's done when a poked-in knife comes out clean.

Make the glaze while the cake is cooling. Melt butter in a saucepan. Stir in ¼ cup water and the sugar. Boil for 5 minutes, stirring constantly. Remove from heat and stir in rum.

Carefully release cake from pan. Poke small holes all over it with a toothpick. Pour ¾ of the glaze into the bottom of the cake pan and return cake. Pour remaining glaze over the exposed bottom of cake. When all of the glaze has soaked into cake, invert onto a plate.
A lot of ingredients go into making a good memory, and for Monica O'Connell it usually includes butter and sugar … and rum. Baking a rum cake takes Monica back to when she was a little girl living in the South.
Part of this atmosphere was the music played at her parents' house parties —70's R&B. "The foodways and the musical traditions," says Monica, "they share the same space, they influence one another."
Monica remembers the music as an integral part of her household. She recalls helping her mother bake the rum cake; her mother's sense of grace and hospitality left an indelible impression.
"The memory is really literally one of me being a young kid getting to stay up later than I usually do because my parents were throwing one of their famous house parties, eating my mom's famous rum cake on the stairs and watching the grown folks dance," she says.
Rum is a crucial ingredient in the cake and the party. "There's a little bit of rum that goes into the batter," says Monica, "but there's a lot of rum that just soaks into the cake itself."
Now Monica hopes to spread some of that love with her own baked goods. She emphasizes that the cake tastes even better when accompanied by a little Curtis Mayfield.
---
This story is part of Food Traditions, a multimedia project exploring food and culture across Wisconsin.